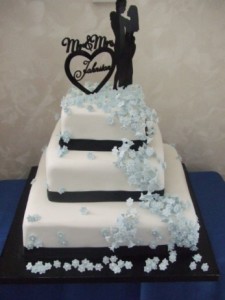 Wedding Cakes have been part of marriage ceremonies ever since medieval times.
Originally they were made of wheat which was a symbol of fertility and prosperity – these cakes would have been thrown at the bride.
The earliest recipe recorded from Britain was for a dish for a wedding was a fruit pie. These were piled on top of one another to create a pyramid centre piece.
Earlier wedding cakes from Queen Victoria era and as late as middle of the 20th century were all covered in royal icing making until the 1960's — the icing very hard to cut and then a later date they add Liquid Glucose to make it a little easier to cut. As there was no refrigeration at that time so to preserve the cakes they had to be accommodating weeks ahead of elaborate art work in sugar.
The fruit for the cakes were saturated in alcohol, whiskey, brandy or sherry or a little of each. This was brushed on to the cakes repeatedly on the surface of the cakes to preserve it and to flavour it.
Fruit cakes like fine wine mature with age.
White Wedding Cakes:
For in the minds of most people wedding cakes are supposed to be white, white has always denoted purity and it relates to white wedding cake icing that first appeared in Victorian times.
The New Look In Covering Wedding and Celebration Cakes:
In the 1960's an Australian baker created a mixture of powdered sugar, glycerine, liquid glucose, gelatine and a small amount of vegetable fat. This mixture as dough like appearance and texture and could be rolled out like pastry.
This immediately took cake decorating by a storm and became the new fashionable frosting, for covering cakes know today as plastic icing (Australian name) , Sugar Paste ( English Name ), Rolled Fondant (American Name ) and in New Zealand ( Pettinice ).
The new product quickly spread to England and its Colonies, and today is the most popular method of decorating special occasion and celebration cakes by all cake decorators the world over.
Multi Tiered Wedding Cakes:
The once one tier simple wedding cake has evolved into what today is a multi tiered extravaganza which was reserved for English royalty but today anything from 1 tier up to 11 tiers or more for modern brides of today.
Pillars as decoration existed long before multi wedding cakes. The pillars were used to support the upper tiers.
Today's wedding cakes are both traditional and contemporary and are often seen in White or Ivory, and now available is coloured Pettinice to match the wedding party, but also contemporary in style including multi tiered cakes stacked cakes are very popular with modern brides of today which mostly they have different cakes flavours for each tier been asked.
Wedding cakes are now displayed in a multitude of colours, shapes and sizes, with an eccentric array of edible bows, handmade flowers, draping, dots, stripes, swirls, and curly-cues and designs to fit any theme imaginable.
Both of these coloured fondants are now available locally in Dunedin and Mosgiel and are used by Cakes For All Occasions for all their cake orders.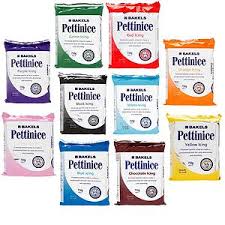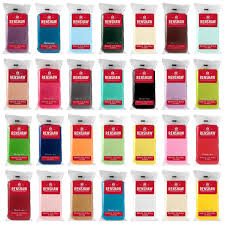 Cutting the Wedding Cake:
Wedding cakes take centre stage at any wedding reception symbolically the first task that the bride and groom perform jointly as husband and wife is to cut the wedding cake. A photo of the cake taken by the photographer is a special memory for the couple to have for years to come of their special day.