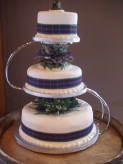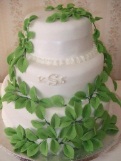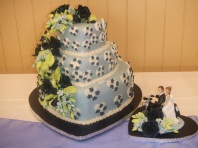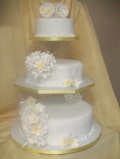 Decorative Iced Specialist Specializing in Decorating Wedding cakes –Our Specialty
Our Bridal Package to You:
Email: info@icedcakes.co.nz
Congratulations to you both on your forthcoming marriage.
About Us
Cakes For All Occasions are situated in Mosgiel just over the hill from Dunedin, 10 minutes' drive south.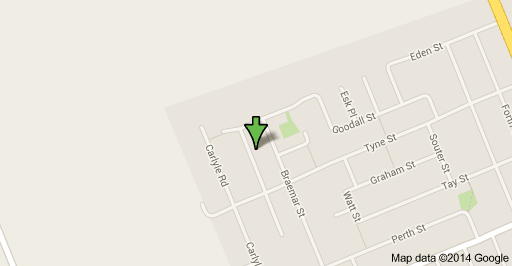 11 Silverstream Drive Mosgiel
We are cake decorating specialists in wedding cakes with over 40 years' experience with designing some of our own wedding cake designs over the years and still planning some in the pipe line, which cakes have been shown at local wedding shows, in bridal magazines, and at Wall St Mall Dunedin.
Go into our link for app application here to go on to your mobile phone.
Ordering your Wedding Cake
We offer traditional and modern cake designs, plus if you have not any ideas of what you may be looking for, Margaret has many books and photo albums to view from.
We offer to our clients our experience within the wedding field within the Dunedin area, and good sound helpful advice, plus with our links on the website we also can advise other wedding businesses to you, that can also assist you for the big day, which we all work in with each other to make your day special. Check our links on the website
All Cake Bookings are by appointment only from 10am 4pm.
We will do night appointments from Tuesday to Friday and by day from Monday to Friday, if this suits the couple best, plus Saturday Morning from 10am –until 12 noon by arrangement only.
Saturday Sunday we are closed, unless by special arrangement with the owner/ operator for out of town clients only.
We do charge for a consultation fee of $50.00, to be payable by cash. We ask you to pay this at the time of the appointment, whether you book you cake with us or not.
If you do book your cake this is taken off the cake price. We also have a term agreement form that must be signed by both parties at your appointment –this covers both parties. The consultation fee covers my time with each client, where the cake sizes, cake flavours to decoration of the cakes including flowers etc. and cake boards is discussed. Please allow at least one hour of your time with us, sometimes it can take a little longer.
All confirmed orders may be confirmed at your booking or email or phone 2 weeks after your appointment as dates do get booked.
We do ask you for a 50% deposit to be paid on confirmation of your cake, so we can purchase your cake ingredients etc. for your cake or cakes and balance to be paid prior to the week before of the wedding.
A variety of wedding cakes made by Margaret can be view on our website here.
Wedding Cake Prices
Your wedding cake price will depend on what you choose in flavours, and the sizes of cakes whether it is one tier, two tier, three tier or more. As cake ingredients and the covering of icing (fondant and almond paste).
Fondant now available in colours to match your bridesmaid's frocks. Please advise if you would like to add colour to your cake and I will try to get it for you from my supplier in New Zealand.
Our prices do include your cake ingredients, brandy/ kahula, etc. cake boards, power and mixing of the cakes, my time, cake tin hire, ribbon around the cake /cakes ribbon or silver or gold braiding around on the cake boards, icing flowers will depend on how many required on each tier. Cake toppers are extra to the cake prices.
Most couples have a budget to go by for their cake /cakes, so we will endeavor to try and work in with you also. As each cake / or cakes are different in design etc. also the cost will be also.
Wedding Cakes are a labour of love.
Wedding Cake Clause:
If your wedding has been cancelled or for unseen circumstances please notify us as soon as possible.
If cancelled and your cake ingredients or cake or cakes have been already been made or your cake ingredients have been purchased specially for your cakes or cakes or part of:
This will be taken off the cake deposit or if paid in full.
Fee for consultation — $50.00
Cancellation fee —$100.00
Any ingredients or equipment purchased especially for the order will be deducted off the payment.
We regret there will be no full refund on the deposit or the full payment under any circumstances
Margaret A. Crawford-Warden.
Owner-Operator.
Booking
We suggest you book your cake in with us no later than 4-6 months ahead of your wedding day. Some of my clients have booked 1 year ahead. We wish to make the cake to be perfect for that very special day, and so do you. Some months are busier than others. Please keep this in mind when booking your cake.
Accessories




These flowers were made by Margaret.
Good things do take time to make especially flowers and leaves plus cake tops as these are all hand made from scratch.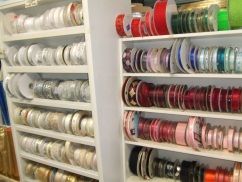 Remember that your ribbon around your cake and your decoration whether it be handmade flowers /fresh flowers check our website re using fresh flowers on your cake or other decorations makes your cake to be elegant.
We have a wonderful selection of ribbons for your cake or cakes to choose from.
Flavours
We offer to our clients 32 cake flavours including gluten free cake flavours as well, including 10 cup cake flavours which are individually made with each order to homemade recipes and only made fresh with each order to fresh cake ingredients. Cupcakes cannot be made until the day before and then iced so they are as fresh as can be for the special day.
Fruit cakes are made are from our family recipe.
These need to be made at least 2-3 months ahead to mature in flavour.
A full list of our cake flavours available can be found here.
Modern brides of today are stepping away from the traditional fruit cake but some brides still prefer this for their cakes, this allows the cake decorator to finish the cake/ cakes ahead of time.
For those brides who like modern cakes like chocolate mud they can be made a week in advance but chocolate carrot banana etc. cannot be made until the week of the wedding then decorated but only will keep up to 3 months in the freezer, where as a fruit cake can be frozen for a longer length of time.
Remember cutting your cake at your reception which takes pride at any wedding reception which many hours has gone into the making and decorating of the cake. It takes pride of place where many of your wedding guests will admire the cake and many photos will be taken.
This is your first task as a married couple you do is cut your cake. The bride inserts the knife into the cake assisted by her husband.
History of the Wedding Cake
The baking of a wedding cake is believed to be one of the oldest traditions going back to the Roman and Greek days.
It is certainly a well-established tradition of every wedding celebration.
You can view a variety of wedding cakes made by Margaret here.
Testimonials
Some amazing Testimonials from our clients are included on our website.
For Hire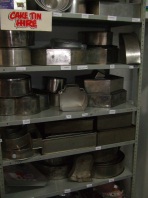 We hire out cake tins, cake stands, Rodd cake knife plus a lovely bridal archway for your wedding or reception or both. Check them on our website here.
See on our website under cake hire for the cake tin shapes we can offer to you. From square to long octagonal plus assorted cake stands, we also have a stainless steel 3 tier round cupcake stand.
We offer these services to our clients and the following conditions do apply:
Whatever you hire it must be returned by the Monday following after your wedding date.
Just remember you had it for your special day so remember the next person whom has ordered it as well to make their special day special also!!
3 piece White Wrought Iron Bridal Archway
Height is 6ft and Width from Prongs is 3 ft.
Price for weekend cost is $100.00 plus bond $50.00
Assorted Cake Stands

 see on website for all stands

New glass stand (there are two to choose from).
Price for weekend cost is $30.00 plus bond $50.00

E 3 tier stand


For weekend Cost is $50.00 plus bond of $30.00

7 piece round stands in Perspex
For weekend cost is $60.00 plus bond of $30.00

Cup Cake Stands

3 tier round cup cake stand
For weekend cost is $50.00 Bond: $30.00

Cake Fountain plus stand and accessories
Very special care is required — This is the only one in the Dunedin/ Mosgiel area or possibility the South Island.

This cake fountain and accessories parts are now not replaceable.

You are responsible for it over the weekend and must be returned on the Monday in the condition it was given.

It is your responsibility to supply your own power cord.
Must only have

distilled water

in the fountain.
For weekend cost to hire is $150.00 plus bond of $50.00

Rodd Silver Cake Knife
This is a family heirloom to be passed down to my family in due course.
Sorry there is no box for this knife, as this was thrown out at a previous wedding.
Cost is $25.00 plus $10.00 bond

This is a guide for you only, as you prepare for the most important day of your life. If you have any further questions that may not be covered here please go to the website under FAQ.
I look forward to hearing from you soon.

Margaret A. Crawford-Warden
Owner –Operator