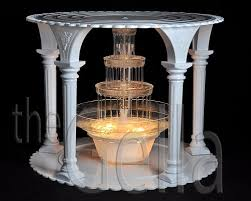 Yes, we do have a cake fountain with accessories. Must be taken great care of as it is now not replaceable.
You the client, it is your responsibility for the care of the fountain FROM THE TIME OF HIRING, and you are also responsible for still water FOR THE FOUNTAIN (Purchase from a supermarket in the water aisle) and your own electricity cords etc.
Hire time is for weekend -Friday and return by Monday.
THIS FOUNTAIN IS ONLY HIRED OUT LOCALLY.
SORRY– NO OUT OF TOWN CLIENTS.